How to locate a dogging spot
It is true that mature doggers know the dogging spots in their neighbourhood better than their local supermarket. There are, however, a lot of adults that are curious about this lifestyle and don't have a clue how the find the best dogging spots in the UK. We also have members that get so tired of going to the same old places that they will give anything to find a new venue and a fresh crowd.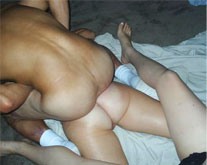 It's not always that easy to locate dogging locations and it can be quite a hit or miss affair if you don't know where to look. Driving to your nearest car park or picnic spot will not only waste your time but it might even be dangerous if you are on your own. The best way to ensure you get some dogging action is to use this site as your recourse.
No matter if you are an experienced couple or are a "newbie" you can use our listings of the best sex locations in England, Scotland and Wales to your advantage. We update our list of public sex locations all the time and we also encourage all our members to mail us if they can contribute with a new spot. You can browse our database of the best dogging spots any time of the day and at no cost.
To make things real easy for you we have categorized our information according to country, area and city or town. If for example you want to go dogging in England and you are from Surrey then you can narrow it down to area like Cobham. Then your search will provide you with all the car-parks, lay-bys, picnic spots and other outdoor venues where dogging takes place.
Once you join our site you can also read reviews of the best places and even watch outdoor sex videos to see if you want to go there. Apart from out listing there are also other means to find the best outdoor sex locations. We have a host of interactive features like chat rooms, forums, blogs and internal mail that you can use for this purpose.
Many of our members also advertise the fact that they are going to go a specific location on our sex personals. If you and your partner decide to use this tool on our site then you can control the audience by only giving the specific location and direction once you've made sure the person is reliable. In this way you can control who will be there and prevent a bunch of single guys waiting you in.