BDSM fetish site: personals for bondage community
The BDSM community consists of adults who are into bondage, discipline, dominance, submission, sadism and masochism. On this fetish site you can make contacts with couples or single who shares your kinky desires and you can then live out your fantasy. You can also browse thousands of sex personals about erotic activities like spanking, role play, blindfolding, sensory deprivation and the seductive art of restraint with a rope. In this way you can experiment with your sex partner and try out what's titillating for you.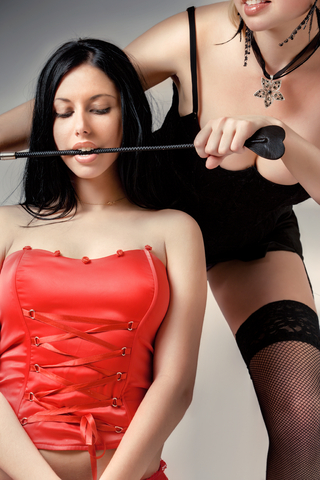 You'll quickly discover that our BDSM society is not into vanilla sex but into pushing their boundaries whether it is through pain, humiliation, control or obedience. We cater for novices who are into it for the occasional tease and more experienced players who like the hardcore stuff and want to follow a permanent non-vanilla lifestyle. You can use our interface to begin an on-line relationship and then as you build up trust it can turn into real-time and later even full-time.
We'll show you the tools of the trade, educate you about safety and the dangers of living on the edge of pleasure and pain, and talk about the basic idea of control and submission and how to balance your fetish lifestyle and still live and work in a vanilla society. Our community will guide you into curbing your own instincts and desires and reaching that point of orgasm.
Kinky BDSM community – dominance, submission sex personals
Let's make one thing clear about the BDSM community, it's all consensual and nobody is forced to do anything not even the subs (adult who submit to a dominant partner). This is a safe and secure environment where we don't allow anything underage or illegal like beastiality.
There are a lot of misconceptions about this lifestyle and outsiders tend to label the activities as sadistic when it's really just a form of physical play. For example restriction can either limit your movement through bondage or your senses through blindfolding. When it comes to dominance and submission each individual enjoys something different whether it is whip and paddle use or sensation play with fetish toys.
What can you gain from joining this online society? You'll find out about BDSM parties, events and workshops. You can search for local contacts that are masters, dominatrix, subs or femdoms and interact with them.